How to Heat and Cool a Sunroom
Discover how to heat and cool the sunroom in your home.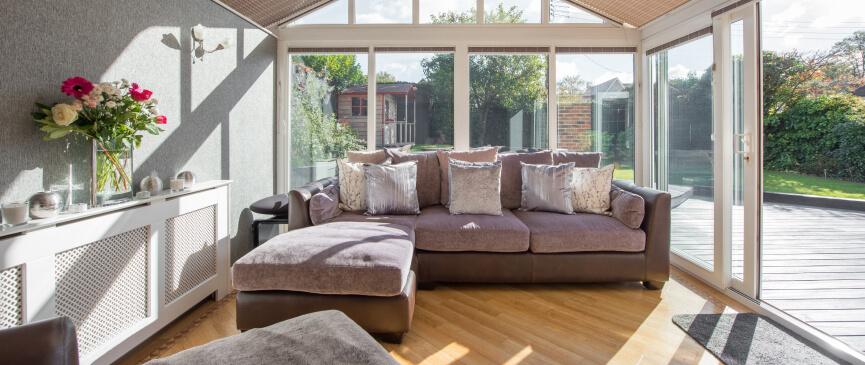 When thinking about adding a sunroom to your home, there are a few things you want to consider. Make sure you know how you are going to be using the space, that way you can choose the right kind of sunroom for your needs. Knowing what kind of sunroom you want to build will also help you determine what kind of materials to use. Aluminum is traditionally used for sunrooms, however it is not a good insulator, and therefore may not be the best choice for a room you plan to use most of the year.
If you do plan to use your sunroom year round and want a more efficient material, vinyl may be a better choice. But whether you go with aluminum or vinyl, knowing how to heat and cool a sunroom can be a challenge.
How to heat a sunroom
You have a few options when it comes to heating a sunroom. The easiest and one of the least expensive is to add a space heater to the room. Be sure to only use the heater while you are present in the room to avoid any safety hazards. You can also add a thick carpet or rug to help keep the room insulated.
Extending your HVAC vents into the sunroom can really help with heat and air-conditioning year round, but you'll want to consult with an American Standard Customer Care dealer first to ensure that your unit can handle the additional square footage. Vents can be installed under the floor or in the wall for sunrooms with glass ceilings. If extending ductwork is not an option, an American Standard ductless system gives you the flexibility to heat or cool your sunroom at the touch of a remote control.
Cooling a sunroom
Extending your HVAC system into your sunroom will also cool your sunroom in warmer months. When adding on a sunroom, insulating windows will help to keep the cool air inside during the summer. Tinted windows also help keep the room cool by blocking the amount of light coming in. This option does allow less sunlight in though, so you may have to decide how it will affect the look and feel of the room. Finally, adding blinds or other window treatments will also help to keep the room cooler.
Combination solutions
For homeowners who need a heating and cooling solution for a smaller space, or where a traditional split system will not fit, check out American Standard's ductless heat pumps. Ductless heating and cooling systems are ideal in places where there is no existing ductwork, potentially saving you money on installation. They can also be scaled to heat and cool more than one room if you are looking to cool a larger space.
Heating and cooling a sunroom with an American Standard HVAC solution
When it comes to adding rooms to your HVAC system, it's always best to check with an American Standard Customer Care dealer. One of our dealers can come out to your home to perform a diagnostic check or answer any questions you have.
---