Furnace Troubleshooting Tips and Tricks
We all know that furnaces can sometimes break down or stop working properly. But before calling your local HVAC repair technician, check out our basic troubleshooting guide. You may be able to take care of common furnace issues yourself and save money on a service call.
---
Heating system symptom checker
Check the thermostat. Anytime you have furnace problems, your first step should be to check the thermostat. Ensure it is set higher than room temperature and set to "heat." Turn the fan switch to on. If the fan doesn't turn on, it's possible the furnace isn't getting power, or the motor is broken.
Change your filter. A dirty filter can cause your furnace to stop working. How often you change your filter will depend on your furnace, the type of filter and your lifestyle. To change your filter, remove the old, dirty filter and replace with a new one. Wait 30 minutes before hitting the reset button. If the unit still doesn't start, try the reset button once and wait 30 more minutes. Ensure that your furnace door is on property after changing the filter as this can prevent the furnace from starting.
Check the furnace is turned on. Double check that your furnace is on. A good place to start is by checking the breaker in your electrical panel. If the breaker was tripped, check for loose connections before turning it back on. Also make sure that the furnace switch is turned on. The switch is usually located in the basement, either near the furnace, by the basement stairs or in the ceiling.
Look for blockage. If you've checked all of the above, see if any debris — snow, ice, weeds or grass — are blocking your furnace venting.
Check the blower fan. Not all furnaces have a power button for the blower fan, but if yours does, check to make sure it's on.
Call a professional. If you've followed our above furnace system checker suggestions and your unit still isn't working, it's time to contact your local American Standard Customer Care dealer.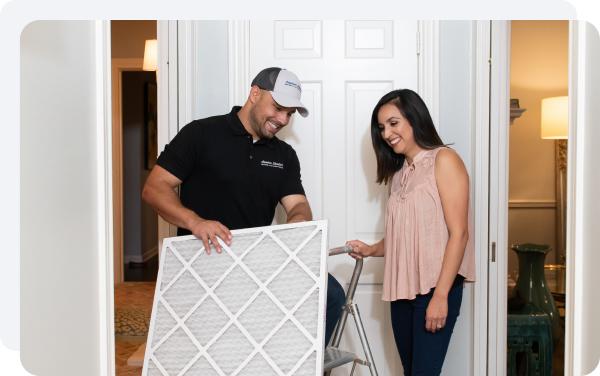 Need to call in the professionals?
Contact your local dealer for immediate assistance.
We're here to help
Connect with our Customer Care team about your products, warranties, and dealer concerns.
Available Monday – Friday from 7am to 5pm CST
A phone
Contact a local dealer
Dealers can answer questions, help you find the right products for your home, and repair your system.