How do air conditioner & air handler matched systems work?
An air conditioner and air handler matched system works well in all climates but is a particularly good choice for warmer regions including the South, Southwest, and parts of California.
What does an air conditioner do?
Air conditioners handle cooling your home on those hot, summer days. Refrigerant runs throughout the entire air conditioner, absorbing, carrying, and releasing heat at various stages in the cooling process in order to lower the temperature in your home. Once the air is cooled, the air conditioner works with an air handler to evenly distribute cool air throughout your home.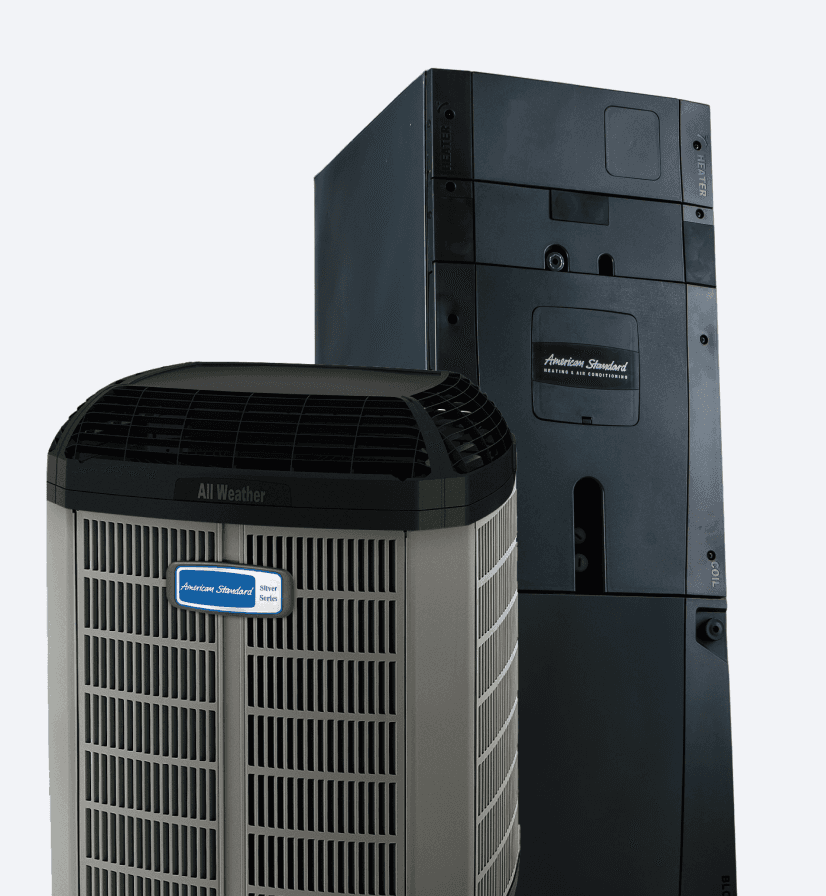 WHAT DOES AN AIR HANDLER DO?
Air handlers move air throughout your home to achieve your ideal temperature
Air handlers circulate both cold and hot air throughout your home to create your perfect indoor temperature. American Standard air handlers are available with multi-speed or variable-speed motors. Our variable-speed models are known for their humidity control, variable airflow capacity, and soft starts, but the motor best for you depends on personal preference.
BREATHE EASIER!
Air cleaners can be easily added to almost all systems to help improve air quality
Dust, dirt, pollen, pet dander, and more have no place in your home. An air cleaner takes your home comfort system to the next level by reducing the level of harmful particles in the air you breathe, plus keeping your rugs and home furnishings cleaner. The American Standard AccuClean® Whole Home Air Cleaner removes up to 99.9% of allergens, 99.9% of Influenza A*, and more than 99% of the surrogate for the virus that causes COVID-19** within 30 minutes from the filtered air in your home.
*As reported by airmid healthgroup in ASCR092142v2 (2015).
**Removal rate based on an area of 1,007 ft3. The AccuClean® Whole Home Air Cleaner, when used in accordance with manufacturer's directions, is proven to be effective at removing virus particles. Effective removal rate based on independent testing results using MS2 bacteriophage, a bacteria representative of virus-sized particles like SARS-CoV-2 that causes COVID-19.
Related products
---
Get helpful HVAC tips in our newsletter
Sign up for our email newsletter to learn helpful HVAC tips and tricks before you purchase your system.