HVAC Basics: how does central heating and air work?
When it comes to central heating and air, ductwork is the most important thing. A central HVAC system works by feeding newly warmed or cooled air through a system of ducts that span across your entire home. Understanding central heating and air is essential for homeowners who want to determine if central HVAC systems are right for them, or for the curious homeowner who already has one but wants to know what's going on when they hear that HVAC system kick into gear.
How does central air conditioning work?
True to its name, central cooling is the process that drops the temperature in your home so you can stay cool inside when it gets hot outside. This is typically achieved by taking heat and humidity from your home and placing it outside. But in order to achieve this seemingly simple process, many different components are at play.
Central cooling system options
There are three different systems that can achieve central cooling in your home. The two most common central cooling systems are a split-system air conditioner and a heat pump, both of which are composed of an indoor and an outdoor unit. The outdoor unit holds a fan, compressor and outdoor coil, while the indoor unit holds a blower and indoor coil. A split-system air conditioner can only cool, so it's oftentimes paired with another HVAC unit, such as a furnace, for heating purposes, to make a complete system. On the other hand, a heat pump can both heat and cool your home depending on the flow of refrigerant at any given time. But, these systems are similar in the parts that make them up. In an indoor/outdoor central cooling system, there are five parts:
The third type of central cooling system is called a packaged air conditioner. This is different from the two other systems because the entire system sits outside of your home. It does have most of the same parts as other central cooling systems and it also adds an extra set of ductwork. A packaged air conditioner takes air from your house through the return ductwork, then supplies air back through the supply ductwork.
Central cooling process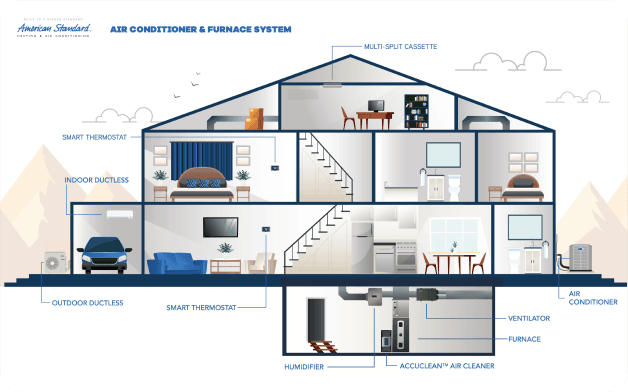 Thermostats act as a catalyst for the central cooling process. When you lower the temperature on your thermostat, it alerts the rest of the system that it's time to go to work and achieve your desired temperature. Once this message is received, these are the steps taken to cool your home.
How does central heating work?
When we think about central heating systems, we can actually think about them in largely the same way we think about central cooling systems. But instead of moving hot air out, central heating systems move hot air inside. And, some central heating systems can produce their own heat from scratch. The method your system is using just depends on which system is in your home.
Central heating system options
Your central heating system typically uses either a heat pump or a furnace.
Furnaces and air handlers
Furnaces are the central heating systems that make their own heat. They burn a natural fuel source, like gas or oil, to produce heat and warm your home. Another method of heating your home is with an air handler. While air handlers can generate their own heat using electric heaters, they are commonly paired with a heat pump which generates heat for your home using refrigerant.
Heat pumps
Heat pumps are the central heating systems that move air around to heat your home. Because of this, they can alternate between heating and cooling based on the flow of refrigerant. Heat pumps work great in a variety of climates because they can perform dual functions.
Central heating process
Like in the central cooling process, the thermostat is also the catalyst for the central heating process. When you raise the temperature on your thermostat, it alerts the rest of the system that it's time to go to work and reach your desired temperature.
For heat pumps to heat, they do the same thing they do when they're cooling, except in reverse. When the heat pump recognizes it needs to do an opposite function, a reversing valve kicks on in the outdoor unit to reverse the flow of refrigerant. Then, the heat pump can absorb heat and humidity from outside and put it inside, instead of the other way around. Remember, you never need to touch the reversing valve in your system!
Since furnaces produce their own heat, they function in a different way than heat pumps to achieve the same goal. Again, the thermostat kicks off the heating process, but beyond that the entire furnace heating process is unique. First, a furnace needs to be connected via a pipe to some kind of fuel source. This might be outside your home or underground, and will typically be something like propane or natural gas. The furnace follows these steps to heat your home: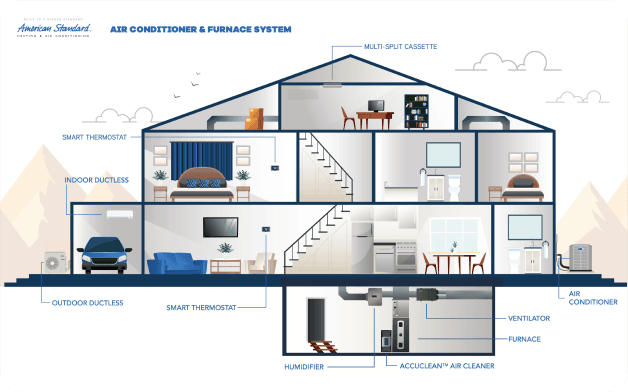 What should homeowners do before central heating and cooling installation?
Determine what's best for you
You're likely going to have unique temperature needs based on a combination of factors including where you live, the type of home you reside in, yearly temperature patterns, and more. Before you invest in a central heating or cooling system, sit down and evaluate your needs to ensure you're investing in the right system. Plus, your local independent American Standard Air dealer is always there to walk you through the buying process.
Prepare for installation
Central heating and cooling systems can take a few hours to a few days to install, depending on the type of system you've purchased. Ensure you'll be home to answer any questions your technician might have for you during installation. Indoor units oftentimes go in unused or clutter-filled spaces in the home (like an attic or basement) so make sure the space is clear for your technician!
Hire a licensed professional
HVAC system installation should be left to a licensed technician. Remember to look for state and local licensing before hiring any technician, as well as any additional certifications that indicate expertise like a NATE certification. Your ASA dealer can help you find a great installation technician.
Related products
---
Get helpful HVAC tips in our newsletter
Sign up for our email newsletter to learn helpful HVAC tips and tricks before you purchase your system.